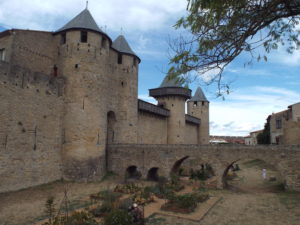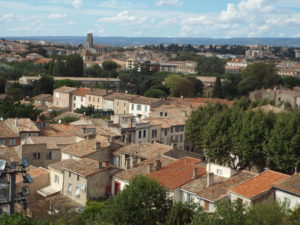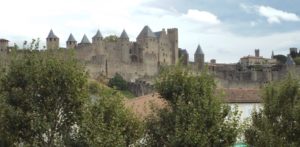 Whilst in France we had taken to staying to staying on Vineyards which are part of a scheme called France Passion. You can stay among the abundant vines for free, the views are often amazing and happily you also get to taste the wines! These past few weeks there has been much talk of Merlot, Sauvignon, and Syrah. Even words such as 'complex' and 'peppery' have been bandied about but mainly it's "I'll take a case of each"!
Carcassone was our first vineyard stop. We were greeted by Michele, le patron, who introduced us to one of his three daughters who, this year, has taken over the business. He expressed regret at not having a son to take over from him although Marielaura seemed more than capable of commanding the respect of the workers that surrounded and towered over her and very keen for us to try all the wines. Well it would have been rude not to! We even tasted grape juice that had just been pressed during the previously few days. Overlooking the Canal du Midi we were able to cycle down to the canal each day and along the towpath into town. This sounds blissful but in fact was pretty scary as the rain had caused the towpath to become very muddy and slippery. It was also quite narrow and bumpy in parts and on arriving at the town my jaws, arms and shoulders were all under attack from the stresses of the path.
Carcassonne is a beautiful medieval town and that's just the lower town. The Medieval city on the hill is the real attraction architecture and is therefore understandably crammed full with tourists. Its Romanesque architecture, so well preserved and restored you do, really, think you are stepping back in time, whilst mostly you are just stepping back into another sightseer. We had a tour of the battlements which saw us spending a lot of time in 'the lists' as it was almost impossible to walk around the inner city in a group. A lightening two-day strike prevented us from seeing the castle but the beautiful former Cathedral of Saint-Nazaire more than made up for the industrial action. Having had our fill of history and architecture we made our way back to the lower town and the Canal du Midi, bracing ourselves for the cycle home, fortunately the sunshine had dried the surface of the towpath and the narrow bit seemed wider and less bumpy.  Arriving back at the vineyard we could unwind with a spot of wine tasting from the cases we had bought.